CT4 COASTELMATIC PNEUMATIC TOOL HOLDER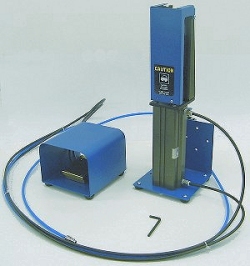 The CT4 coastelmatic pneumatic toolholder uses air to activate spring-retracted hand tools and makes a great alternative to automatic crimping, stripping, and cutting machines. You get all three functions for one low cost — saving you thousands of dollars! The new and improved cylinder delivers 10% more power through dual action allowing you to tackle the toughest jobs.
As versatile as it is inexpensive, the CT4 is easy to set up and use with your crimp tools. The patent pending tool holder securely holds all of your tools in place, allowing you to work hands-free. Plus, it can work with crimpers, strippers, and cutters with just a few minor adjustments. Each unit arrives preassembled, tested, and ready for use.
FEATURES
Automates spring retracted hand tools
Ergonomically designed
Fully encapsulated cylinder
Affordable and reliable
10x faster than manual crimping
Multifunction operation
Portable, light weight, sets up in seconds
PNEUMATIC OPERATOR BENEFITS
Fits most hand tools from Paladin and Ideal
Eliminate operator fatigue
Eliminates contaminants from entering cylinder
Low cost alternative to full automation Increased productivity
Unit crimps, cuts, and strips
Easy to operate and transport 1 year limited warranty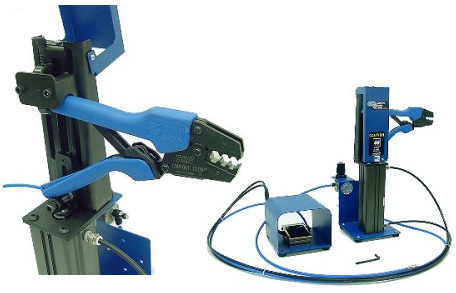 SPECIFICATIONS
Requires 120 psi air supply with a ¼" standard coupler Universal Mounting Fully adjustable tool closing pressure and speed 6" Stroke Dual Control Cylinder
Each Unit Contains:
Single unit applicator cylinder Mounting base with regulator Dual action foot control Color coded air tubing 1 Wrench Speed control