#24 & #24HD CUTTER HEADS
#24 CUTTER HEAD
Designed to produce extremely precise cuts, this is an advanced cutter for every type of connector and cable (1, 2 and 3 level strips). Blades make all strips simultaneously and are also independently adjustable for fine tuning. Special blade material lasts up to 5,000 strips. Cut ends are removed manually, for precision and to prevent cable distortion and contamination. Replacement blade cartridges available.
FEATURES
CUTTER HEAD FEATURES Quick change & interchangeable Spacing between blades fixed at factory Blade "depth of cut" is adjustable MAXIMUM cable diameter .435″ – 11.0mm MINIMUM cable diameter .070″ – 1.8mm Special tooling available on request for non-standard applications
CUTTER HEAD ORDERING PROCEDURE

The Best Choice For
VOICE ~ VIDEO ~ SIGNAL ~ DATA
or any application where multiple coaxial connector terminations are required.

Quick change, very precise cutter heads can be ordered
for any required strip dimension or cable type

Perfect for Coaxial, Triaxial, Semi Rigid Cable Quick change and interchangeable Supplied specifically for the strip/trim dimensions requested Spacing between blades is fixed at factory Blade "Depth of Cut" is adjustable Designed to produce extremely precise and repetitive cuts Available Cutters for every type connector and cable, (1, 2, 3, and 4 level strips) Blades make all strips simultaneously and are also independently adjustable for fine tuning Custom and nonstandard tools are also available for special requirements. NOTE: To order Cutter Heads
Supply A, B, C, dimensions or connector part number and cable type
CUTTER HEAD SETUP
For 700 Series, 747-CPP, & 1066 Strippers
Quick change, patented cutter heads are available
for all types of cable and strip dimensions.
The strip length required is determined by the connector type and make that is used. When ordering Cutter Heads please give Connector manufacturer name and model as well as cable type. Coastel Cutter Heads are made for the strip length and cable that is specified. When properly adjusted (for blade depth, see diagram above) nicks, scoring, and blemishes are eliminated. The cut ends or slugs are removed either manually or by using any style end removal tool. Techniques are shown in the Coastel "Tool Operation Manual". Typical 3-Level Strip
Showing Blade Depth Adjustment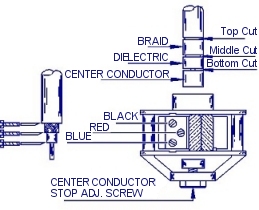 Blade Spacing, (preset strip length)
is Set at the Factory
CUTTER HEADS CAN BE ORDERED FOR ANY STRIP CONFIGURATION WITHIN THE LIMITATIONS SHOWN ON THE ILLUSTRATION BELOW.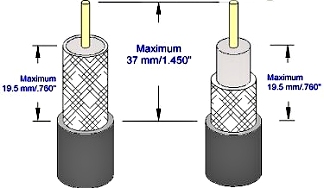 Special tooling is available for non-standard applications. Pricing for non-standard tools will be quoted upon request. (Non-standard to include special requirements or custom stripping for coaxial, triaxial, semi rigid, heliax and AWG wire.